In report, UN human rights chief notes Afghanistan's hard-won gains may be forfeited
KABUL - The United Nations human rights chief has warned that "hard-won gains" that Afghanistan has made since 2001 in a range of areas, including human rights, "may be forfeited" for the sake of short-term political goals as the country passes through momentous times of its history.
"The human rights situation in Afghanistan continues to face serious challenges, with the 2014 elections and scheduled conclusion of security transition creating an environment of uncertainty, including for human rights," according to the UN High Commissioner for Human Rights, Navi Pillay.
Ms. Pillay's comments were contained in the 'Report of the United Nations High Commissioner for Human Rights on the situation of human rights in Afghanistan and on the achievements of technical assistance in the field of human rights in 2013,' an annual report which was presented to the General Assembly earlier this month.
The report covers key developments in the human rights situation in the country throughout 2013, including issues of protection of civilians in armed conflict, violence against women, treatment of conflict-related detainees, transitional justice and human rights aspects of peace and reconciliation processes, and support to national human rights institutions.
Noting that there are signs of past achievements being eroded, Ms. Pillay further said this will undermine "the fragile stability to which respect for human rights and the rule of law has contributed."
"Many Afghans, especially women, fear that achievements made in the protection and promotion of human rights since 2001 will be increasingly at risk... Protection of civilians in the armed conflict continues to be a serious concern," said the 17-page report.
Afghanistan is slated to hold Presidential and Provincial Council elections on 5 April. The Presidential poll will mark the transfer of power from one elected president to another for the first time in the country's history. The political transition coincides with a security transition as Afghan security forces have taken up security responsibility from their international allies, who are ending their combat mission by the end of this year.
"Violence, discrimination and harmful practices against women remain systemic and entrenched; landmark protections for women, including the 2009 Law on the Elimination of Violence against Women (EVAW Law), have been questioned," said the UN rights chief, referring to a law enacted through a Presidential decree.
The EVAW Law criminalizes acts of violence against women and harmful practices including child marriage, forced marriage, forced self-immolation, baad (giving away a woman or girl to settle a dispute) and 18 other acts of violence against women including rape and beating. It also specifies punishment for perpetrators.
The latest UN report on the implementation of the EVAW Law, released last December, found that although Afghan authorities registered more reports of violence against women over the past year, prosecutions and convictions remained low, with most cases settled by mediation.
Ms. Pillay also said in her latest report on Afghanistan that her office – together with the UN Assistance Mission in Afghanistan (UNAMA) – has documented Afghan forces' continued use of torture against conflict-related detainees in a number of detention facilities and denial of detainees' access to legal counsel.
She has also expressed concerns that the Government undermined the "highly regarded, credible and effective work" of the Afghanistan Independent Human Rights Commission (AIHRC) in 2013 by not following standard procedures while appointing new commissioners.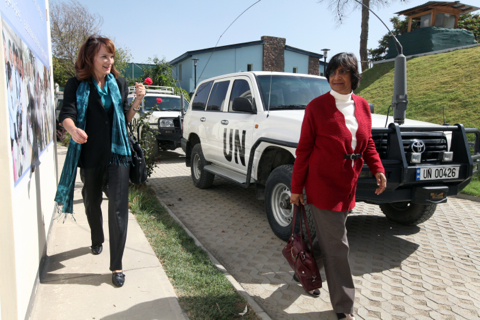 "This threatened the independence and effectiveness of the Commission's work," said Mr. Pillay, who raised this issue with national and international partners during her visit to Afghanistan in September 2013. "I remain committed to supporting and strengthening this critical national institution."
Last September, on a visit to Afghanistan, the UN rights chief had said there were "real concerns" that the appointment process was "sufficiently flawed" for it to lose its 'A' status under the Paris Principles, an international peer-run system of accreditation for national human rights bodies, which now exist in more than 100 states worldwide. The decision on AIHRC's status has now been deferred by one year.
Related articles: 
- UN report finds mixed results on implementation of Afghanistan's EVAW law over past year
- UN human rights chief: Afghanistan at a 'critical juncture,' more effort needed to preserve gains
- Photo Story: UN human rights chief Navi Pillay visits Kabul

OHCHR-report-to-GA-Jan2014.pdf