Insecurity continues to pose challenge to assisting displaced Pakistanis in eastern Afghanistan
KABUL - In the aftermath of tens of thousands of Pakistani nationals being displaced into the Afghan provinces of Khost and Paktika, the United Nations agency coordinating humanitarian efforts there has said that access continues to be a challenge due to insecurity.
"As the acute phase of emergency response winds down, access continues to be a challenge due to insecurity – only around seven per cent coverage of families who have received assistance in Paktika, as compared to Khost with 64 per cent," said the latest humanitarian bulletin released last week by the UN Office for the Coordination of Humanitarian Affairs (OCHA).
The Pakistani military launched a large operation against militants in North Waziristan region on 15 June, which resulted in the displacement of 95 per cent of the population of the targeted area and a large number of people crossed the Pakistan-Afghanistan border into the Afghan provinces.
The Office of the UN High Commission for Refugees (UNHCR) said earlier this month that more than 15,000 displaced families have been assessed in Khost and Paktika provinces, with a vast majority of them living in Khost.
Children make up approximately 64 per cent of the displaced population, according to OCHA.
The latest OCHA bulletin, which covers the month of July, also said that 80 per cent of the displaced families have settled within the host communities, while some 3,000 families are living in Gulan camp in Khost province. However, plans are in place to assist some 13,000 families comprising around 100,000 individuals, including those living with their Afghan hosts.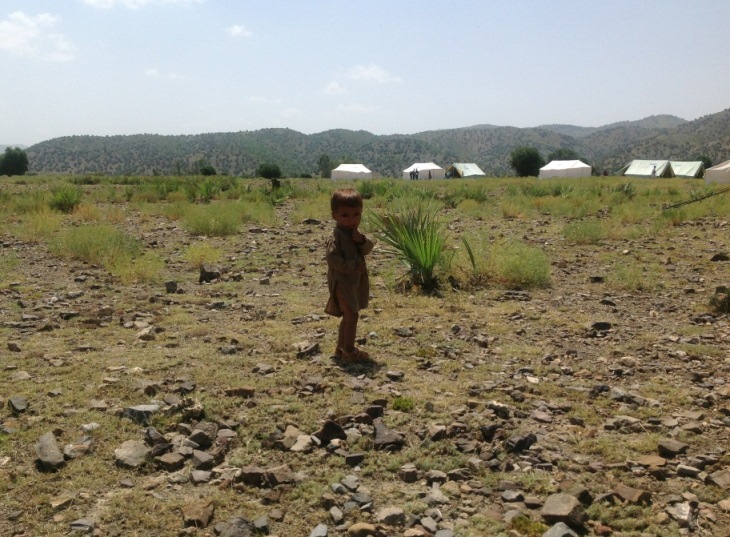 The head of the UNHCR in Khost, Marie Helene, said the distribution of relief goods in the communities is "a very challenging job because these families are currently located in 115 villages and a lot of these villages are currently inaccessible by UN agencies due to security risks."
The OCHA bulletin said assessments of the needs of the displaced indicate that food, health, shelter, and water, sanitation and hygiene services are "urgently needed for a response of up to six months."
"There is critical need for demining operations in and around the camp to ensure the safety of displaced families and aid workers; and to mitigate risk during installation of latrines and drainage," it added.
Related articles:
- UN to appeal for more funds in aid of displaced Pakistani nationals in Afghan provinces 
- IOM responds to needs of Afghan families displaced by military operation in Pakistan