UN to appeal for more funds in aid of displaced Pakistani nationals in Afghan provinces
KABUL - During a visit to the south-eastern Afghan province of Khost to see first-hand the situation of thousands of displaced Pakistani nationals on Wednesday, a senior United Nations official said the world body is preparing to appeal for "more resources and funds" to help provide them with aid.
"As a result of this visit, we will be preparing an appeal for more resources and funds to help the displaced families in this difficult situation," said the UN Humanitarian Coordinator for Afghanistan, Mark Bowden, in his remarks to the displaced persons.
According to the latest figures released by the Office of the UN High Commission for Refugees (UNHCR), there are more than 75,000 Pakistani nationals seeking shelter in the Afghan provinces of Khost and Paktika. The displacement has occurred as a result of an ongoing large-scale military operation against militants in the bordering North Waziristan region of Pakistan
In its latest update on the situation in Khost and Paktika on Wednesday, UNHCR said that the United Nations is planning to launch an appeal for some $20 million for six months.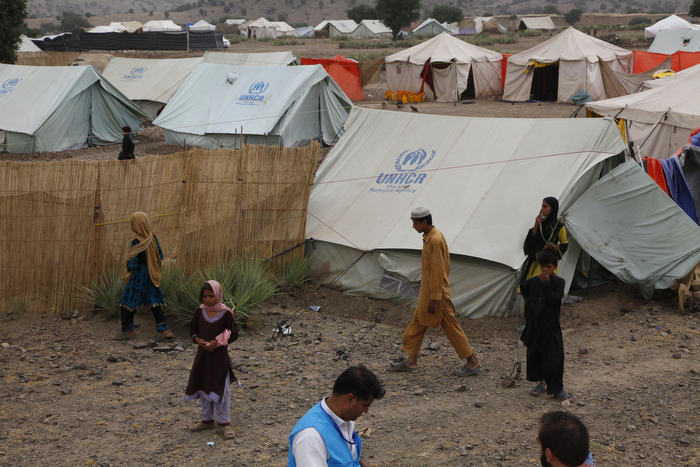 "The agencies operating on the ground in Khost and Paktika provinces are launching an appeal to donors to support urgent and life-saving interventions," the UN refugee agency stated in the update. "Overall, agencies will be requesting approximately $20 million for six months to deliver emergency and life-saving assistance to 10,000 families in Khost and 3,000 families in Paktika."
In addition to those who have fled across the border, the Pakistani Government estimates that the latest fighting has left some 470,000 people internally displaced.
"To have to move and leave your homes, your livelihoods and bring your families at this time of inhospitable weather and during the holy month of Ramadan is a great suffering," said Mr. Bowden, who also serves as a Deputy Special Representative of the Secretary-General for Afghanistan.
He assured the displaced families that UN agencies will increase their presence in the area and work with the Afghan Government to provide all possible support, and hoped for a rapid return of all the displaced families to a "normal, better and peaceful life."
UNHCR said last week that many of the displaced are living with their relatives and friends as well as host communities.
Since the cross-border movement started in mid-June, a number of UN agencies and their humanitarian partners have provided food and non-food items, vaccinated thousands of children against polio and measles and pre-positioned life-saving medicines for 10,000 patients, among a range of other relief activities.
UNHCR has stated that "a number of acute needs are emerging, particularly food, water and sanitation."
UN agencies such as UNHCR, the World Food Programme (WFP), the World Health Organization (WHO), as well as their partners, are working to coordinate relief efforts and deliver assistance by providing tents and other basic relief items to the most vulnerable. In addition, thousands of children have been vaccinated against polio and measles and pre-positioned life-saving medicines provided to 10,000 patients.
UNHCR reported that sanitation, clean drinking water and medical care are in short supply, noting that "although local communities have generously welcomed the displaced, already scarce resources are now reaching capacity."