Afghanistan launches UN-backed protocol to treat survivors of gender-based violence
KABUL - Afghanistan launched its first-ever gender-based violence (GBV) treatment protocol for healthcare providers to ensure "quality care" for victims.
Outlined in a joint statement from the Afghan Ministry of Public Health and United Nations agencies, the protocol details procedures for healthcare professionals working to provide care for GBV victims and collect medico-legal evidence.
"This protocol is a much-needed intervention for strengthening healthcare response to gender-based violence in our country and ensuring that GBV survivors receive the kind of care and treatment they need," said Afghanistan's Deputy Minister for Public Health, Dr. Najia Tariq. "The protocol is a major step forward in building the capacity of the health sector to manage GBV cases effectively."
The protocol, launched at an event in Kabul by the Ministry of Public Health in cooperation with the UN World Health Organization (WHO) and UN Women, is based on WHO's global guidelines, formulated in 2013, on caring for GBV survivors.
Unofficial estimates indicate that, in Afghanistan, more than 80 per cent of women experience at least one form of domestic violence. Citing this issue, the joint statement indicated that more than 6,000 healthcare providers, including doctors, nurses and midwives, will be trained in GBV care during the next five years.
The statement noted that Afghanistan is the first country to develop guidelines for a country-specific protocol. "Gender-based violence, especially violence against women, is not only a severe human rights violation but also a serious public health problem in Afghanistan," said WHO's representative in Afghanistan, Dr. Rik Peeperkorn.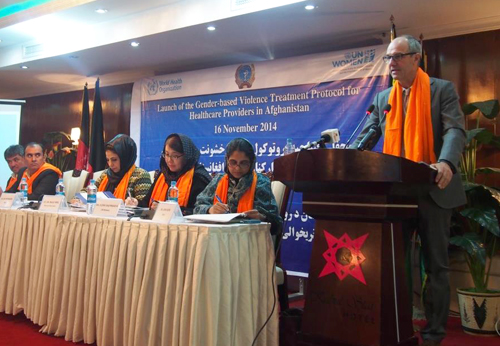 "GBV has many consequences on health, some hidden and some more obvious," added Dr. Peeperkorn. "It can cause a wide range of physical and mental as well as sexual and reproductive health problems."
The representative of UN Women in Afghanistan, Elzira K. Sagynbaeva, urged donors to support the implementation of the protocol.
"Full implementation, including training of healthcare personnel, requires resources," said Ms. Sagyanbaeva. "UN Women stands ready to work with partners for joint resource mobilization as part of our larger efforts to end GBV."