Afghanistan's vast natural resources can fuel conflict unless managed properly – UN report
KABUL - Sustainable and equitable management of Afghanistan's vast natural resources can contribute to peace-building in the conflict-affected country, but it also can trigger and fuel conflict unless managed properly, according to a United Nations report released today in the Afghan capital, Kabul.
The report, 'Natural Resource Management and Peacebuilding in Afghanistan,' prepared by the UN Environment Programme (UNEP) with support from the European Union, details how improper handling and distribution of local resources – mainly land, water, forests, drugs and extractives – can trigger conflicts in local communities in Afghanistan.
"The central argument of this report is that better natural resource management has an important role to play in the wider process of peace-building," said the 58-page report. "Under 'better' natural resource management, the benefits from natural resources are equitably divided; communities are involved in, and informed about, the decisions that affect them; contracts and payments are transparently conducted; and communities can raise and settle their grievances."
Besides its land, water, forests and drugs resources, the South Asian nation is rich in extractives, with some estimates valuing the vast reserves of minerals buried throughout the country, which include large deposits of copper, gold, and gas, at about US$1 trillion.
The UNEP study also aims to encourage international organizations to introduce mechanisms into their projects to ensure that they do not inadvertently exacerbate conflict over natural resources.
According to a survey conducted in 2008 by Oxfam, a charity headquartered in the United Kingdom, although conflicts which pit insurgents against government and international forces are the ones that claim the most lives and the most attention, disputes over water and land were the two most commonly reported reasons for violent conflict, accounting for 55 per cent of all cases.
"Natural resources is not just trees and waters, but also extractives, land, land tenure, drugs issue that will play in the future of the country," said the UNEP Programme Manager in Afghanistan, Andrew Scanlon, while presenting the report today.
The report proposes a two-pronged approach to linking natural resource management to peace-building and conflict prevention. The first part of the approach involves ensuring that the UN and its international partners design conflict-sensitive projects and programmes. The second part of the approach involves encouraging environmental or natural resources management projects that harness the power of nature to both sustain livelihoods in the country and maximize the opportunities for peace-building.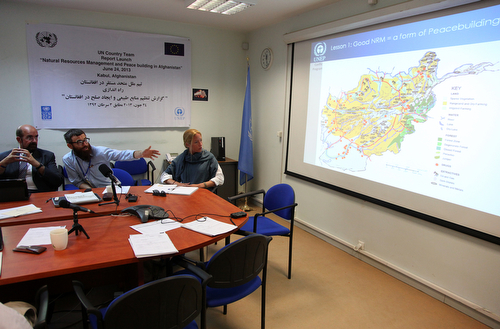 In his message at the report launch, the UN Resident and Humanitarian Coordinator and Deputy Special Representative of the Secretary-General for Afghanistan, Mark Bowden, said effective natural resource management can be used as a tool for conflict prevention and peace-building in Afghanistan.
"The Government of Afghanistan and the international community should incorporate appropriate safeguards in all their major projects and programmes in Afghanistan to avoid inadvertently raising tensions," said Mr. Bowden. He added that disputes over natural resources can aggravate "existing ethnic, political and regional divisions."
Another of the Secretary-General's Deputy Special Representatives for Afghanistan, Nicholas Haysom, said the issue in post-conflict countries is how to make natural resources a blessing "that reinforces stability and not a curse that drives conflict."
At the Kabul event, one of the authors of the report, Erin Blankenship, said two-thirds of all locally reported conflicts in Afghanistan are related to land and water.
"That's something that deserves a little bit of attention and something that people in our position have a responsibility to acknowledge in our own programmes," said Ms. Blankenship.
Ms. Blankenship also noted that one of the biggest findings of the study was that "if the environment and natural resource elements and contexts have been better understood and better prioritized, you would have significantly reduce problems."
A senior advisor from the Afghan Ministry of Rural Rehabilitation and Development, Hermione Youngs, told those attending today's launch that the Government is bringing in a policy to mediate local conflicts at the community, district and provincial levels "in the very near future."
A study, on Afghanistan's natural resources and conflict, carried out last year by a non-governmental organization, the Afghanistan Watch, said that natural resources have been viewed as an essential part of the ongoing transition to the full exercise of national sovereignty by the Afghan Government, with the potential for large scale exploitation of natural resources filling the projected central government budget deficit. 
[Click here to download the full report.]
[Click here for a guidance chart that visually illustrates Afghanistan's natural resources.]

UNEP_Afghanistan_NRM_guidance_chart.pdf