Women activists trained on Afghan gender laws and formal judicial system
KUNAR - More than 30 women's rights activists from Kunar province received training on Afghan laws relating to violence against women, as well as judicial procedures and mechanisms in order to help victims of violence get access to justice.
The workshop, organized by the Provincial Department of Women's Affairs with the assistance United Nations Assistance Mission to Afghanistan (UNAMA) Human Rights workers, took place in Asadabad, Kunar's capital.
There have been a number of serious violence against women cases in Kunar, but many are dealt with through informal processes due to restricted victim-access to the formal legal system.
In 2014, 27 cases of violence against women and girls, mainly related to domestic violence and honour killing, were documented by UNAMA's eastern regional office. Many more cases went unreported due, among other factors, to lack of awareness among women about their rights and for fear of reprisals.
During the workshop, the participants identified illiteracy, economic dependency, insecurity, harmful traditional practices, weak rule of law and rampant corruption as key contributing factors in cases of violence against women.
The participants suggested initiating further capacity building programmes for women and government institutions including the police and judicial officials. They also called for the joint monitoring the cases by judicial institutions.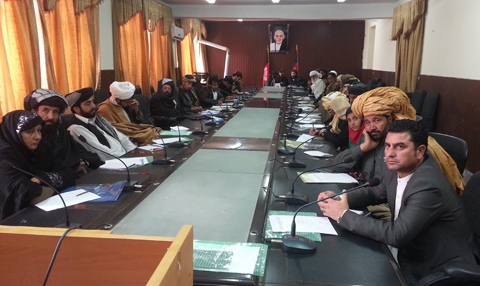 At another UN-backed workshop in Sharan, the centre of Paktika province, community elders, religious leaders, government officials, civil society and media representatives discussed girl's right to education from social, cultural and religious perspectives, and highlighted the significant role and contribution of educated women in family, community and country.
The participants agreed that Ulemas (religious scholars) and community elders can play vital role in addressing this critical issue, and urged them to mobilize their respective communities to protect women's right to education in the province.