UNAMA registers 16 per cent rise in civilian casualties in Afghanistan
KABUL - The United Nations Assistance Mission in Afghanistan (UNAMA) registered a 16 per cent rise in the number of Afghan civilians killed or wounded during the first eight months of this year compared to the same period last year, a senior UNAMA official told a news conference in the eastern Afghan city of Jalalabad today.
UNAMA's Human Rights Director, Georgette Gagnon, said the situation in the country's eastern region was even "starker," with UNAMA having recorded a 54 per cent rise in civilian casualties across the four eastern provinces of Kunar, Laghman, Nangarhar and Nuristan.
"Nineteen per cent of all civilian casualties in Afghanistan took place in the eastern region in the first eight months of 2013," Ms. Gagnon told the gathered journalists.
She added that UNAMA recorded a total of 499 civilian casualties, with 81 deaths and 418 injuries in the four provinces – a 63 per cent increase over 2012.
"Anti-government groups – which continue to deliberately target civilians – have caused the vast majority of civilian deaths and injuries," the UNAMA official said. "Their activities, not limited to violence, include intimidation, threat and abduction of civilians."
In his latest report on Afghanistan to the UN Security Council, Secretary-General Ban Ki-moon expressed concern over the deteriorating security situation in Afghanistan and its direct impact on civilians. "Security remains problematic in a number of mostly rural areas... A rise in civilian casualties – bringing deaths and injuries back to the highest levels (in 2011) documented post-2001 – is of concern," said Mr. Ban.
At today's news conference, Ms. Gagnon said UNAMA had documented a new trend of increasing civilian casualties during ground engagements between Afghan National Security Forces (ANSF) and anti-government groups, "which often take place in populated areas," including villages.
"In the eastern region ground engagements are the leading cause of civilian deaths and injuries – more than double any other tactic – including IEDs and targeted killings," she continued.
During her three-day visit to the region, Ms. Gagnon held a range of meetings with government officials, the Afghanistan Independent Human Rights Commission and members of the civil society, in which the issue of protecting civilians in conflict was high on the agenda. Among other issues the UN official raised during at her meetings were elimination of violence against women, participation of women in the April 2014 elections and treatment of detainees.
"We reinforced our call to parties to the conflict to take all measures to protect civilians," Ms. Gagnon said at the news conference. "Attacking civilians is a war crime."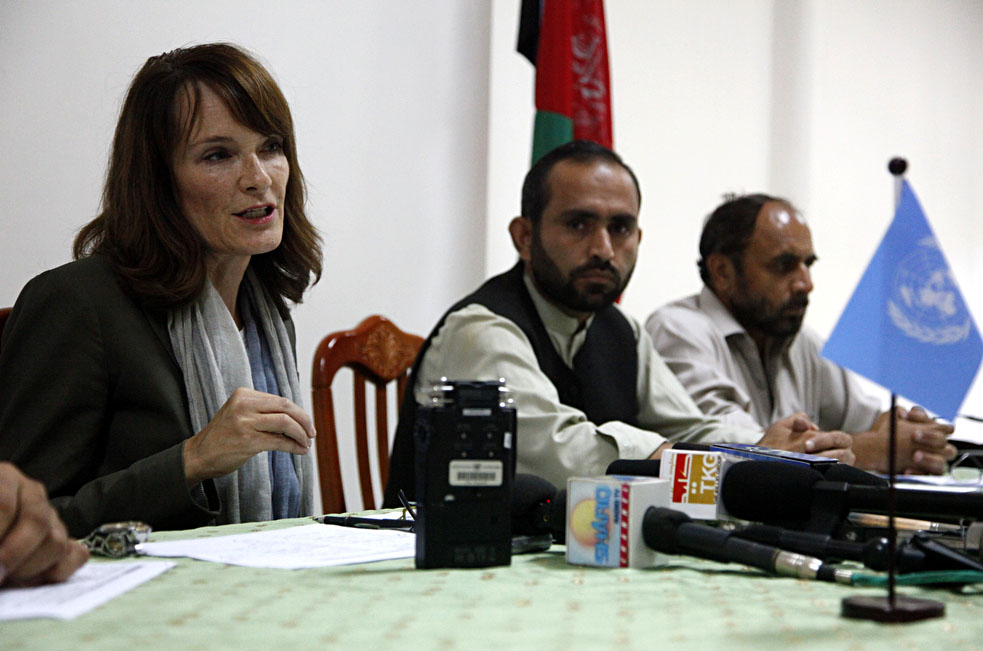 During her meeting with the Deputy Governor of Nangarhar province, Muhamad Hanif Gardiwal, the latter briefed her about government efforts to empower women and enforce the Elimination of Violence Against Women (EVAW) law which also criminalizes harmful practices such as forced and child marriage, and baad (giving away girls in dispute resolution).
According to UNAMA, while prosecutors and courts have been applying the EVAW law in a growing number of reported incidents of violence against women, the overall use of the law remained low, indicating there is still a long way to go before women and girls in Afghanistan are fully protected from violence through the EVAW law. The application of the law continued to be hampered by "dramatic under-reporting" and a lack of investigation by authorities into most incidents of violence against women.
Related article:
- UNAMA report shows sharp rise in casualties among Afghan civilians in first half of 2013