UNAMA donates 12 vehicles to Afghan electoral bodies
KABUL - The United Nations Assistance Mission in Afghanistan (UNAMA) today donated 12 vehicles to Afghanistan's electoral bodies – the Independent Election Commission (IEC) and Independent Electoral Complaints Commission (IECC).
"At their request, UNAMA is charged with supporting Afghan electoral authorities however it can – from technical advice to drawing on best practices from the UN's experiences in other countries," said the Secretary-General's Deputy Special Representative and acting head of UNAMA, Nicholas Haysom, at a hand-over ceremony held in the capital, Kabul.
"In this instance, UNAMA has been asked for help with meeting pressing transportation needs and the Mission is happy to be in a position to do it in support of these organizations which have a critical role to play in making the elections happen on time and in a credible manner," the UNAMA official added.
Afghanistan is due to hold Presidential and Provincial Council elections on 5 April 2014, and UNAMA, as mandated by the UN Security Council, is committed to supporting the elections at the request of Afghan authorities and institutions.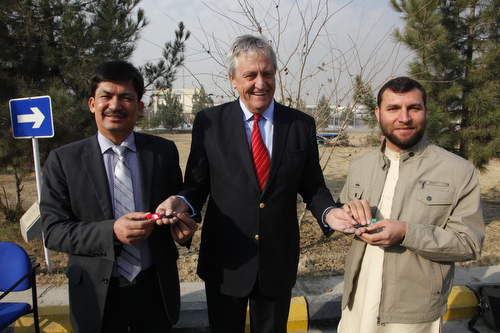 Of the 12 vehicles, four were donated to the IEC, and the remaining eight to the IECC.
In his remarks, Mr. Haysom particularly highlighted the vehicles' usage by the IECC "which faces the difficult task of starting its operations." The members of IECC were appointed in September this year.
At the hand-over ceremony, the heads of the two electoral bodies' secretariats both expressed their thanks for the support provided by the United Nations and the international community.
"Without the financial and technical support of international community, we would not be able to conduct this crucial and historical election," the Director of the IEC Secretariat, Ziaul Haq Amarkhil, said at the hand-over ceremony. He added that any assistance from the international community would be used for the benefit and the best interests of the Afghan people.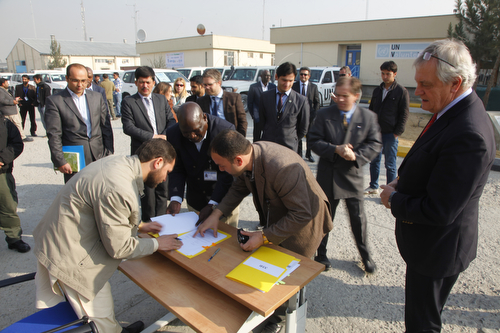 "We also acknowledge the importance of the technical assistance of the United Nations in ensuring transparency in the upcoming elections," added the Director of the IECC Secretariat, Dr. Ali Sategh.
The IEC is mandated to administer and supervise all types of elections and referenda envisaged in the Afghanistan Constitution, while the IECC is charged with acting as an impartial and independent electoral dispute resolution mechanism as prescribed by the law regulating the structure and responsibilities of Afghanistan's electoral management bodies.
UNAMA has previously stated that the Afghan-led and -managed 2014 Presidential and Provincial Council elections are central to Afghanistan's stable and sustainable political transition. The Mission has called on all concerned to engage constructively in efforts to ensure that the elections are held according to the Afghan Constitution and the IEC's timeline.
Click here to download UNAMA press statement on this