UN officials urge collective action to increase response to desertification and drought
KABUL - Top United Nations officials stressed today for a collective action to promote preparedness and resilience to water scarcity, desertification and drought that pose serious threat to Afghanistan.
"Droughts are hard to avert, but their effects can be mitigated. Because they rarely observe national borders they demand a collective response," Secretary-General Ban Ki-moon said in his message for World Day to Combat Desertification and Drought, observed on 17 June, which this year focuses on the theme, 'Don't let our future dry up,' highlighting water scarcity.
Afghanistan is facing serious problems as a result of desertification and drought, and water scarcity is acute. According to the 2006 National Report of the Afghan Ministry of Agriculture, Irrigation and Livestock, desertification affects over 75 per cent of the land area of Afghanistan's northern, western and southern regions.
"Although empirical data on the extent and impact of desertification in Afghanistan is lacking, broad indicators show that the cost of desertification to Afghanistan is extremely high and ever increasing," said a joint report prepared in 2009 by the UN Environment Programme (UNEP), the National Environmental Protection Agency of Afghanistan and the Global Environment Facility.
The UN Office for the Coordination of Humanitarian Affairs (OCHA) said in 2011 that an estimated three million people are affected by drought in 14 of Afghanistan's 34 provinces.
In his message today, the UN Secretary-General said, "Over the past quarter-century, the world has become more drought-prone, and droughts are projected to become more widespread, intense and frequent as a result of climate change."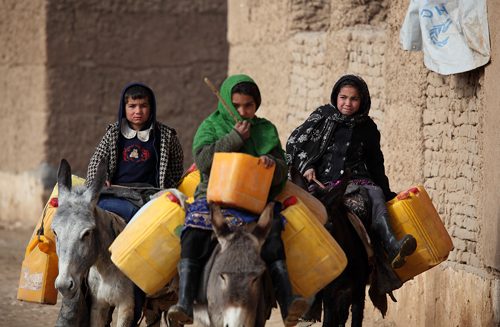 Mr. Ban underlined that "the price of preparedness is minimal compared to the cost of disaster relief," and encouraged countries to build resilience to droughts by implementing the outcomes of the High-level Meeting on National Drought Policy, held in Geneva last March.
Mr. Ban's call was echoed by Luc Gnacadja, the Executive Secretary of the UN Convention to Combat Desertification, which leads global efforts to mitigate drought and combat desertification and land degradation.
"For over three decades, the international community has grappled with drought impacts and their mitigation. But relief still dominates. In most cases, the response is too late," Mr. Gnacadja said.
In Afghanistan, managing its limited water resources has been a challenge, given its difficult terrain.
The Deputy Minister for Energy and Water, Shujauddin Ziyaee, said 75 per cent of the country's water resources are in the banks of the Kabul River and the Panj Amu River, where only 25 per cent of the country's fertile land area is concentrated.
"In the parts of country where the land is fertile, water resources can cover only only 25 per cent of the land, creating immense problem in managing water resources," said Mr. Ziyaee.

ncsa-afghanistan-fr-ap.pdf