UN launches this season's winter assistance in south-eastern Afghanistan
PAKTYA - Afghan authorities and United Nations humanitarian agencies this week launched an assistance programme for people affected by this year's harsh winter in the country's south-eastern region.
The joint government-UN aid effort, which includes the distribution of mainly non-food items, such as kitchen sets and warm clothing provided by the Office of the UN high Commissioner for Refugees (UNHCR) and the UN Children's Fund (UNICEF), will benefit some 1,000 vulnerable families.
"The objective of the winterization assistance is to prepare poor Afghan families – including eligible returnees, internally displaced persons, people within special needs and the most vulnerable population – for this cold winter," said the Paktya provincial director of refugees and repatriation, Hazrat Mir Hemat, at the launch of the aid distribution, held on Tuesday.
He noted that the beneficiaries were identified by a joint committee of government departments and aid agencies.
"Although a majority of the people in Paktya province live below the poverty line, returnees and internally displaced families are among those most at risk in this vulnerable segment of the population," said Mr. Hemat.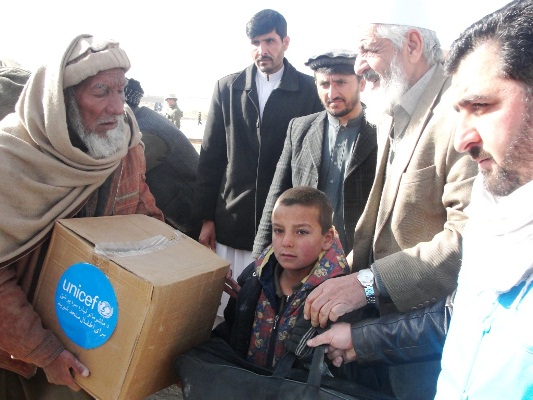 A visually impaired beneficiary, Shah Mohammad, who came to receive the winter package in Paktya, noted the assistance provides a temporary safety to his children. "I ask our government and international humanitarian agencies to work on a durable solution," he said.
A UNHCR aid worker, Kamran Saeed, said the number of vulnerable people has increased this winter with the arrival of thousands of Pakistani families displaced by a large-scale military operation on the other side of the border. Mr. Saeed added that the UN refugee agency recently opened its office in neighbouring Khost province to deal with the situation.