UN humanitarian officials travel to Khost to meet displaced families ahead of winter
KABUL - In a show of support for thousands of displaced families, the United Nations' top humanitarian official in Afghanistan, Mark Bowden, visited the country's southeastern province of Khost on Wednesday to underscore the world body's commitment to them as winter approaches.
Mr. Bowden was accompanied by the head of the office of the UN High Commissioner for Refugees (UNHCR) in Afghanistan, Bo Schack. The UN delegation met with community leaders in the Gulan camp for the conflict-displaced in Khost and discussed their needs, including fuel, power and shelter, for the coming winter.
Since June, military operations in Pakistan's North Waziristan Agency, which borders Afghanistan, have led to large scale population displacements, with thousands of people crossing into Afghan provinces. According to figures from UNHCR, displacements are continuing, with the number of displaced families now estimated at 33,000.
"You have my sympathy, and I understand that this is not the first time that you had to move from Waziristan," said Mr. Bowden, who is also the Secretary-General's Deputy Special Representative in Afghanistan.
"I hope that we can all work toward a situation where a peaceful life in this area and in this region are possible, securing for everybody a better long-term future," he added.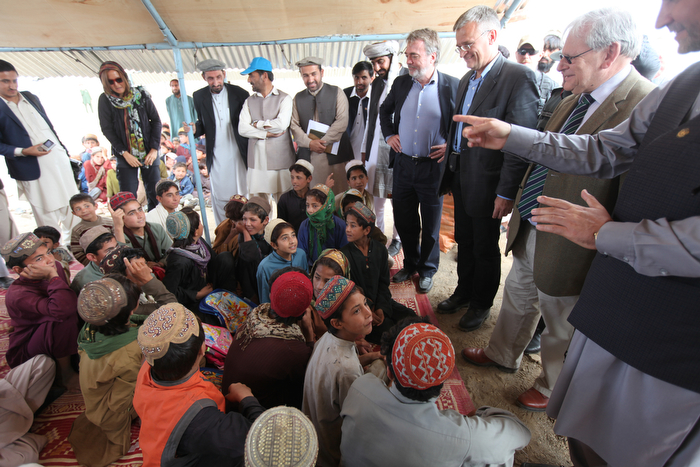 Khost Provincial Governor Abdul Jabbar Naeemi asked for help with the newly displaced. He told the UN delegation that the growing number of displaced is putting pressure on Khost's residents and the provincial government.
"In Tanai district, more than 300 families have newly arrived," he said, highlighting the influx of people in one of Khost's many overburdened districts. "We don't have any kind of facilities or any kind of stock in the district to offer these newly arrived families in the cold weather."
The visit follows a meeting earlier this month between Mr. Bowden and President Ashraf Ghani, who expressed concern and asked the UN to share its plans to support the most vulnerable Afghans in the coming winter.
In speaking with the displaced families, Mr. Bowden, who later met with civil society groups in the area, expressed the world body's commitment to do everything in its power, with its Afghan partners, to assist those most at risk through the winter.
"We will look, within our means, at how we can support your needs," said Mr. Bowden, adding that he will convey their concerns, in particular, about education and support for their children, to authorities in the Afghan capital, Kabul.
In discussion with camp leaders, UNHCR's Mr. Schack outlined plans for winter support for vulnerable Afghans and said that the UN agency is working with the humanitarian community and Afghan partners to draft a government-led response plan.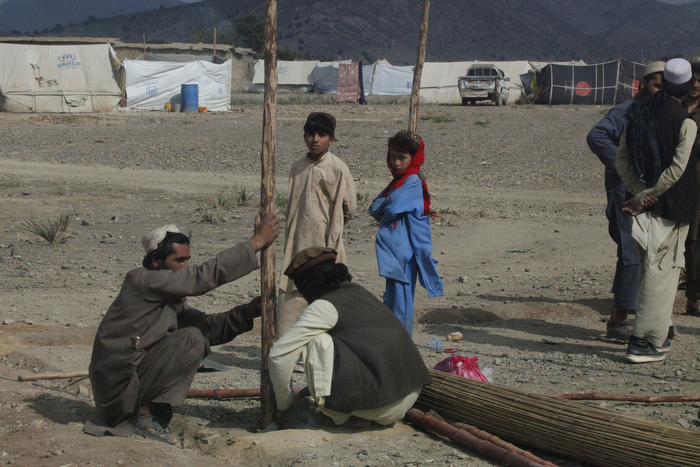 UNHCR is prepared to provide assistance, including clothing, roofing, tents, blankets and fuel, for some 16,000 families, and is ready to distribute some 6,500 toolkits that include pick-axes, shovels, wheelbarrows and sandbags to help families winterize their shelters.
The World Food Programme, the World Health Organization and the UN Children's Fund are coordinating relief efforts to deliver tents and other items to the most vulnerable.
Recent reports from the UN Office for the Coordination of Humanitarian Affairs indicate that conflict and natural disasters have left many Afghans living without proper shelter. These include families who lost their homes during spring floods in the north, refugee families from North Waziristan who have fled their home to Khost and the neighbouring province of Paktika, and families displaced internally in the last year due to conflict.