UN-backed survey to help improve Afghan lives
KABUL - A United Nations-backed large-scale survey, conducted in the Afghan capital last year, has a broad range of findings which can be used to help improve the lives of citizens.
The socio-demographic and economic survey, implemented by Afghanistan's Central Statistics Office (CSO) in 2014 with technical support of the UN Population Fund (UNFPA), found that children between five and nine years-old make up the largest age group in Kabul. More than 90 per cent of married women aged 15 or above had given birth, it added.
"Accurate data at the village and district level is essential for making good decisions to respond to both problems and opportunities in provinces," said the Country Representative of UNFPA in Afghanistan, Annette Sachs Robertson.
"Knowing how many people live in a given area, who they are and where they live and work, is essential to planning and implementation of socio-economic projects to meet people's needs and improve their lives," added Ms. Robertson.
The survey findings, released on Tuesday, also highlighted a broad range of problems, including the lack of basic healthcare, potable water and educational facilities.
In a news release, CSO said the survey aimed at gathering data for evidence-based decision making, policy, planning and management, providing data for business and industries, vulnerable populations, humanitarian assistance and analysis.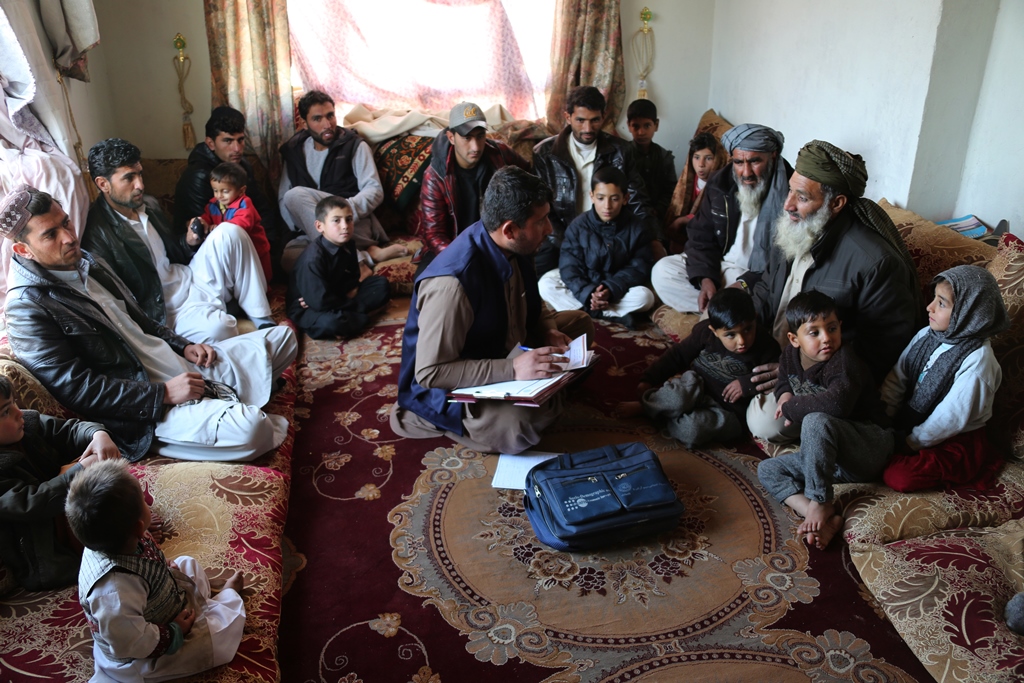 A household owner in But Khak village, Kabul province, answering a surveyor's questions. Photo: Najibullah Musafir / UNFPA
------------------------------------------------------------------------------------------------------------------
Some 2,700 surveyors, who fanned out across Kabul, focused their information gathering on age, gender, education, literacy, employment issue, people on jobs, fertility, mortality, birth registration, parents' living status and housing characteristics, according to CSO.
CSO said the survey was designed as a long-term project to gradually gather information on population from all 34 provinces, which will also provide village level data for local development policy and planning.
Kabul is the fourth province after Bamyan, Dai Kundi and Ghor, where such a survey has been conducted with UNFPA's support.
The Kabul survey revealed that the youth between 15 and 24 years of age comprises some 23 per cent of Kabul's 4.2 million people.
It also found that literacy rate for people aged 15 and above is 55.2 per cent, while among youth between the ages of 15 and 24, it is 70.7 per cent. Literacy rate among the population of 10 years old and above is 59.6 per cent and net attendance rate in high school in Kabul is 39.1 per cent.
It added that 92.6 per cent of households in Kabul had access to city power in their houses and two in five households have an improved sanitation toilet facility while three in every four households had access to improved water resources.