Today's run-off elections deepen and strengthen Afghanistan's democratic tradition – UNAMA official
KABUL - As Afghans voted in the second round run-off of their country's Presidential elections today, a senior official with the United Nations Assistance Mission in Afghanistan (UNAMA) – on a visit to a polling centre in the capital, Kabul – said that the democratic exercise "deepens and strengthens" the democratic tradition of the country.
"It is a particularly important occasion today – this is the very first run-off in Afghan history, it marks the final stage in this process which will see the first democratic transition from one elected President to another, and it is also an opportunity to witness the courage of the Afghan people who decided to take their own destiny in their hands through the democratic process and to shape the future of Afghanistan themselves," said the Secretary-General's Deputy Special Representative for Afghanistan, Nicholas Haysom, at a media encounter at the polling centre.
"Given the potential threat of violence against those who do exercise their rights, we have seen today once again that by turning up to vote, Afghans have a determination to exercise their own rights free from interference," Mr. Haysom, who also serves as the deputy head of UNAMA, added.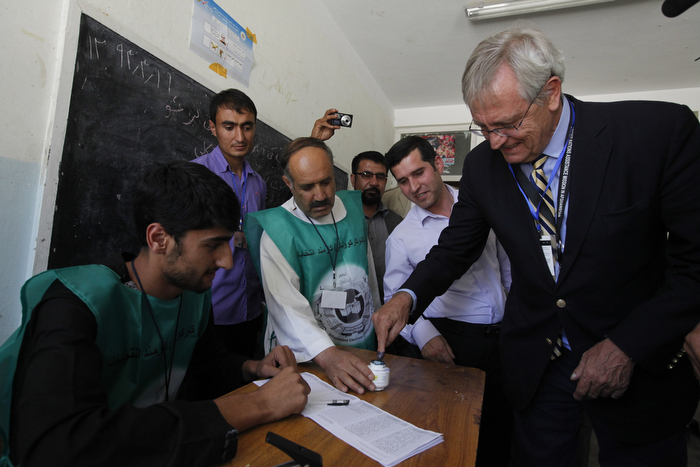 The Afghan Presidential elections, which mark the first-ever transfer of power from one elected leader to another in the country's history, are in a run-off stage after none of the candidates in the first round of the vote, held on 5 April, achieved the 50 per cent plus one result needed to win. Two leading candidates from that round, Dr. Abdullah Abdullah and Dr. Ashraf Ghani Ahmadzai, are competing in today's run-off.
UN officials have previously said that the polls are critical to the country's stability and continued international support.
Speaking at a news conference this afternoon as the polling was underway, the head of the Afghan body responsible for organizing the elections, echoed Mr. Haysom's comments, hailing the Afghan public's participation today.
"The people's participation was widespread and this shows their maturity and belief in democracy," said the Chairman of the Independent Election Commission (IEC), Ahmed Yusuf Nuristani. He also noted that no major security incident had been reported so far, adding, however, that over 150 polling centres that were originally planned to be opened remained closed due to security threats.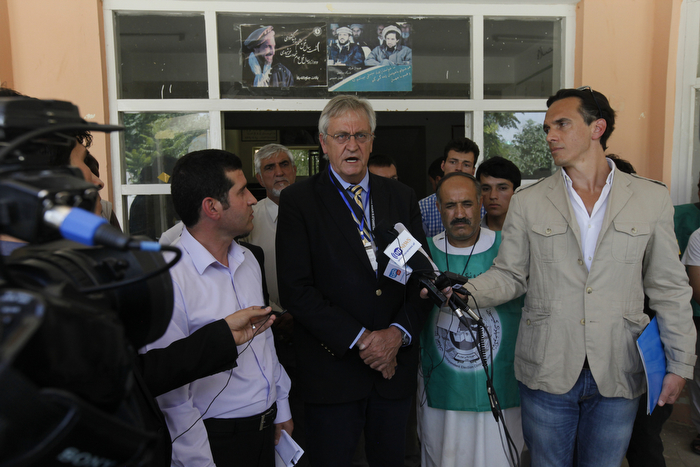 Responding to a question at his media encounter, Mr. Haysom also expressed the hope that the election management bodies – the IEC and the Independent Electoral Complaints Commission (IECC) – will be able to deal with any election-related complaint "in a way which satisfies the Afghan people."
"We have consistently asked both the candidates and all the other stakeholders, including the supporters of the candidates," he said, "to exercise patience in the election, to trust in the machinery which has been created to deal with complaints, and we have urged the candidates to act as statesmen, future presidents, rather than people simply in a competition with each other."
[Click here for the full transcript of Mr. Haysom's media encounter]

14_June_2014_Transcript_of_DSRSG_Nicholas_Haysom's_media_encounter_at_polling_centre.pdf