Improving mental health among Afghan youth highlighted on International Youth Day
KABUL - Highlighting the need for improving mental health among Afghanistan's youth, a United Nations official today said that mental health conditions – driven by decades of insecurity, violence, poverty and unemployment – have left their mark on generations of the country's youth.
"More than one million of our young people in Afghanistan are suffering from mental health conditions each year," said the Acting UN Resident Coordinator in Afghanistan, Dr. Annette Sachs Robertson, at an event organized to mark International Youth Day in the capital, Kabul, today.
International Youth Day is observed annually on 12 August, with this year's observance focusing on the global theme of 'Youth and Mental Health.' According to world body, youth with mental health conditions can often experience stigma and discrimination, which in turn can lead to exclusion and discourage people from seeking help for fear of being negatively 'labelled.' This year's theme aims to raise awareness on the topic, as well as highlight the experiences of those who have chosen to speak out about the issues with the objective of overcoming stigma and discrimination to ensure that young people with mental health conditions can lead full and healthy lives free from isolation and unnecessary shame, and openly seek the services and support they need.
In his message for the Day, UN Secretary-General Ban Ki-moon called for enabling youth with mental health conditions to realize their full potential.
"Wide-ranging efforts at all levels are needed to raise awareness about the importance of investing in and supporting young people with mental health conditions,"Mr. Ban said. "Increased education is crucial in reducing stigma and in changing how we talk about and perceive mental health."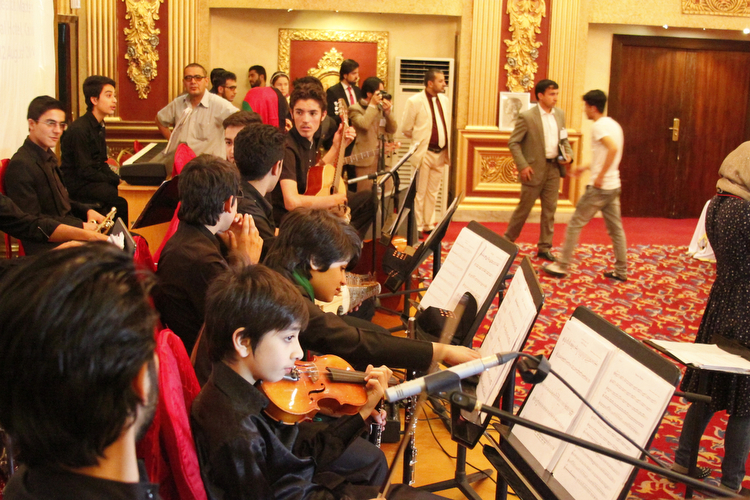 In her comments at today's event in Kabul, organized by the Ministry of Information and Culture (MoIC) with the assistance and coordination of the United Nations Population Fund (UNFPA), Dr. Robertson said, referring to a recent survey of Afghanistan's young people, that more than half of all participants reported that they need psychological or counselling support.
"Suicide and self-immolation, in particular of young girls, have become a growing phenomenon in Afghanistan," she noted.
She also commended the Afghan Government for integrating mental health into its Basic Package of Health Services as early as 2003 and psychosocial counselling into the national health care system in 2010. Mental health is also one of the key areas in the UNFPA-backed National Youth Policy, which has been submitted to the Council of Ministers for approval.
The UN official announced that the UN Country Team has established an Interagency Network on Youth Development, currently chaired by UNFPA, with the aim of better coordinating youth-related programmes and providing more efficient and accountable support to the government in implementing the Policy.
UN Country Team are made up of various UN agencies, funds and programems and ensure inter-agency coordination and decision-making at the country level to ensure the delivery of tangible results in support of the development agenda of the Government.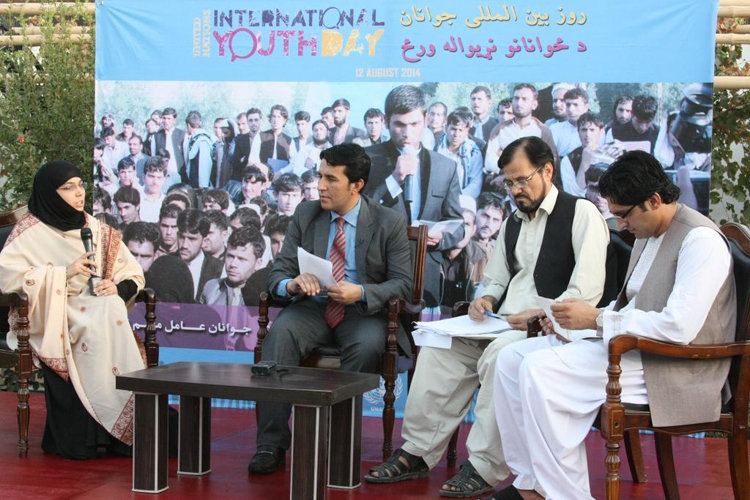 In his comments at today's Kabul observance, the Deputy Minister for Youth Affairs at the MoIC, Taimoor Shah Eshaqzai, said that once the Policy gets approved and implemented, "it will significantly improve the lives of youth in the country."
In a message read out by the Minister for Information and Culture, Sayed Makhdoom Raheen, Afghan President Hamid Karzai, said, "We consider it our duty to work more than ever before for building the capacity of youth."
International Youth Day was also marked in different regions of Afghanistan through the holding of a range of activities focused on the topic, including panel discussions and musical and theatrical performances.
In UN-supported events organized in the eastern provinces of Nuristan and Paktya, speakers highlighted the role of the youth for the country's progress and future stability. At the event in Nuristan, a local youth who recently established an independent radio station called 'Alina,' Sahibdad Hamdard, was introduced as a role model for other youth.
During a similar event in the western Afghan province of Herat, the provincial head of youth affairs, Mahnaz Pirouz, stressed the need of addressing Afghan youth's mental health issues. The head of the province's health department, Qolam Saeed Rashid, said that the main reason behind mental health problems among young people is 30 years of conflict and a lack of education.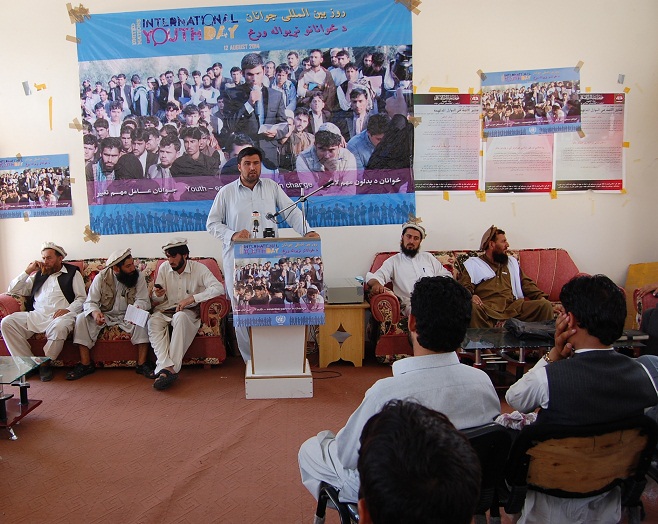 Speaking at a separate event organized in southern Kandahar province, a young female participant, Sarena Faizi, said that the main obstacles for Afghan youth are unemployment, lack of encouragement and intimidation.
In the northern province of Balkh, speakers highlighted a range of problems, including unemployment, drug addiction, extremism and ongoing violence, as being impediments to progress. Meanwhile, in central Bamyan province, the Vice-Chancellor of Bamyan University, Professor Amin Joya, encouraged youth to use social media effectively and responsibly in order to enrich their knowledge.