Ban calls for more progress in eliminating threat of mines, as UN voices support for Afghan efforts
KABUL - United Nations Secretary-General Ban Ki-moon has called for more progress in efforts to eliminate the threat of mines and explosive remnants of war around the world – including in Afghanistan – in his message for the International Day for Mine Awareness and Assistance in Mine Action.
"Eliminating the threat of mines and explosive remnants of war is a crucially important endeavour that advances peace, enables development, supports nations in transition and saves lives," the UN chief noted in his message for the Day, which falls on 4 April, but was observed in Afghanistan on 3 April.
"The United Nations continues to provide wide-ranging assistance to millions of people in Afghanistan, Cambodia, Colombia, Laos, Lebanon, South Sudan and elsewhere," Mr. Ban's continues. "But more progress is needed, and new frontiers for action have emerged, most notably in Syria and Mali, where the devastating humanitarian impact of the use of explosive weapons in populated areas is growing."
In December 2005, the General Assembly declared April 4 the International Day for Mine Awareness and Assistance in Mine Action. The declaration stemmed from recommendations by UN Member States, which wanted to create an opportunity to sustain public awareness about the problem of landmines and explosive remnants of war and the efforts to eliminate them.
The widespread and indiscriminate use of mines and munitions during more than 30 years of conflict has made Afghanistan one of the most heavily contaminated countries in the world.
In the Afghan capital, Kabul, a ceremony marking the Day took place on 3 April with the high-level participation of representatives of the Government of Afghanistan, the diplomatic community and international and national organizations.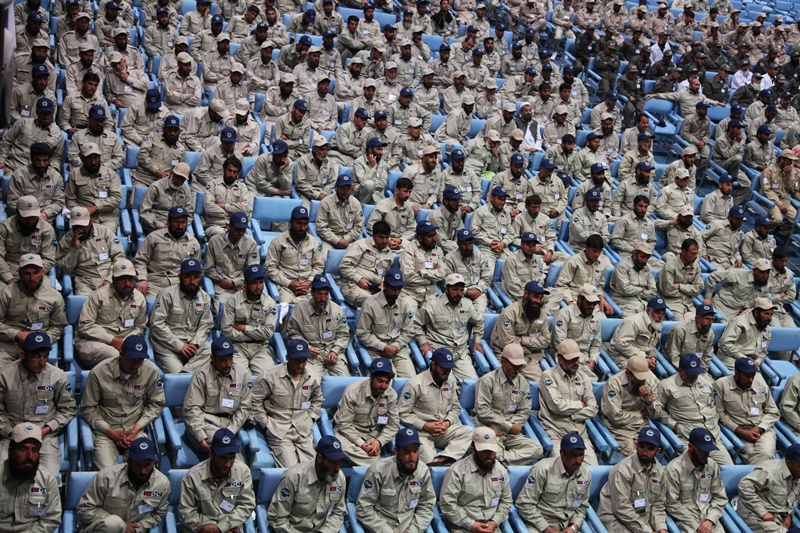 These include the Mine Action Coordination Centre of Afghanistan (MACCA) – which is supported by the UN Mine Action Service (UNMAS). MACCA is the body responsible for the coordination of the activities of the Mine Action Programme in Afghanistan (MAPA), the collective name for the 40 non-governmental organizations and commercial organizations carrying out mine action throughout the country.
"The United Nations in Afghanistan works with the framework of government priorities to support peace building, development activities and to provide humanitarian assistance and support. And the Mine Action Programme has made an important contribution to all these areas," the Secretary-General's Deputy Special Representative for Afghanistan, Mark Bowden, said in his remarks to the ceremony.
"The demining projects undertaken in partnership with the peace and reintegration programme continues to support broader peace building efforts," he added. "Mine Action makes an invaluable contribution to development, particularly thousands of hectares of land for local agriculture and income generation activities."
Due to the scale of the problem, MAPA is one of the largest mine action programmes in the world, with a 20-year history of activity.
Since 1989, more than 21,000 of the country's minefields and battlefields have been cleared, and, as a result, 2,200 communities and 121 districts have been completely demined. Some 1.2 million mines have been destroyed, half of this number by the Ministry of Defense, and the rest cleared by Afghan de-miners. Around 16 million items and explosive remnants of war have been destroyed, and millions of Afghans have received mine risk education, including children, for whom it is now part of the national curriculum put in place by the Afghan Ministry of Education.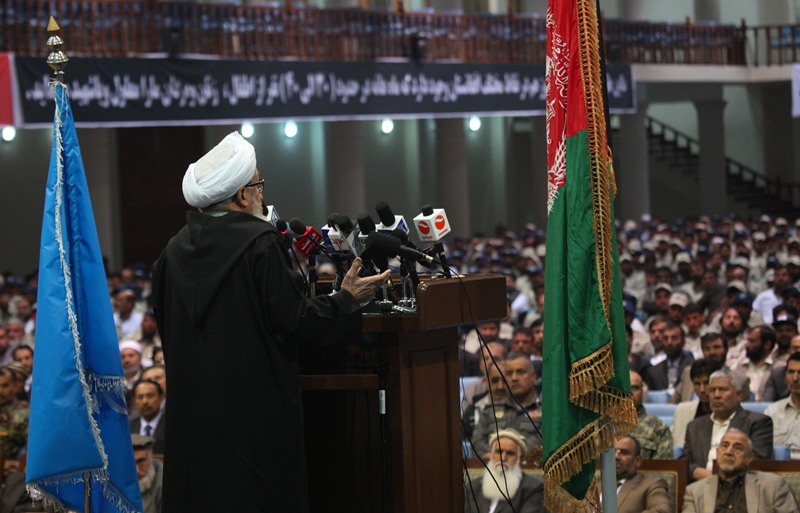 "This huge amount of work has delivered dramatic results," the UNMAS Programme Manager in Afghanistan, Abigail Hartley, said in her speech at the ceremony. "The accident rate has been reduced by 80 percent since 2001. Thousands of square kilometres of contaminated land are now being used by Afghan communities. Supported by Mine Action, airports have been developed, roads have been developed and electricity is being supplied."
From the start of the programme in 1989 up to now 21,585 casualties by mines and the explosive remnants of war have been recorded. In 2012, 356 casualties were recorded – an average of 30 casualties per month – representing a decrease from 2,027 in 2001, which had an average of 169 casualties per month.
The event in Kabul included performances and displays of de-weaponized mines and other explosive ordnance. Those delivering speeches included Senator Sibghatullah Mojaddidi and the head of National Coalition of Afghanistan, Dr. Abdullah Abdullah. A message from President Hamid Karzai was delivered on his behalf.
Afghanistan is a signatory to the Ottawa Mine Ban Treaty – officially known as the Convention on the Prohibition of the Use, Stockpiling, Production and Transfer of Anti-Personnel Mines and on their Destruction – which aims to eliminate anti-personnel landmines around the world. In December last year, the state parties to the treaty approved Afghanistan's request to extend its 2013 deadline for becoming mine-free by 2023.
"The UN Mine Action Service will stand by Afghanistan in its efforts to achieve its target. The United Nations is committed to strengthen Afghan institutions and the political processes and support agreed national priorities and national budgetary systems," Mr. Bowden said.
"What we do and where ever we do, we will always reinforce Afghan efforts and to this end, UNMAS will continue to support and strengthen the department of mine clearance to a point where coordination of mine action is fully owned by the Government," he continued. "Already significant achievements have been made. In April last year, MACCA transitioned to a fully Afghan entity with UNMAS technical assistance provided whenever requested."
Separate ceremonies were also organized to mark the Day in the Afghan cities of Kunduz in the north-east, Jalalabad in the east, Gardez in the south-east and Mazar-e-Sharif in the north.
In the Kunduz ceremony on 3 April, a mine victim, Ghulam Nabi Ranjbar, said raising awareness about mines can save lives. "With our assistance to mine action, let's make our country free of mines and save our people," said Mr. Ranjbar.
In his message for the Day, Secretary-General Ban stated that the "United Nations mine action programmes continue to create space for humanitarian relief efforts, peace operations and development initiatives, allowing UN staff to deploy and refugees and internally displaced persons to return voluntarily to their homes."
He also highlighted how the UN 2013-2018 Strategy on Mine Action sets out a series of steps towards a safer world where individuals and communities can pursue socio-economic development and where survivors are treated as equal members of their societies.
According to the strategy, the vision underpinning its approach highlights the multi-dimensional nature of mine action, with the world body's continuous engagement in all aspects of mine action essential for facilitating immediate humanitarian efforts, improving peace and security, promoting stabilization, ensuring respect for human rights, and enabling development goals.
"The United Nations is strongly committed to mine awareness and mine action throughout the world," Mr. Ban added in his message. "On this International Day, we reaffirm our commitment to a world free from the threat of mines and other remnants of war."