Afghan hospital records sharp drop in number of self-immolation cases
HERAT - The western Afghan province of Herat has experienced a strong fall in the number of cases of self-immolation by women over the past six months, according to the main hospital there.
The hospital's manager, Rafiq Shirzai, said it recorded a 40 per cent decrease in cases of self-immolation, compared to the same period last year when the region's main medical facility registered about 100 cases.
"We have already witnessed the death of 30 self-immolated women out of 60 referred to our Burns Unit since the start of the new solar year six months ago," said Mr. Shirzai.
The reasons behind women's self-immolation are the psychosocial consequences of war, forced and underage marriages and polygamy, according to specialists. In addition, some of the self-immolations in Herat are forced – after the capital, Kabul, the province has the second-highest number of incidents of violence against women.
Mr. Shirzai cited the reasons behind the decrease as heightened level of awareness among the public.
"There are some factors behind the decrease in self-immolation cases in Herat, and the most important one is raising awareness through campaigns by national and international NGOs (non-governmental organizations) in support of relevant government organizations, not only in the city but also in far-flung districts," said Mr. Shirzai. "The goal of these campaigns has been to end self-immolations."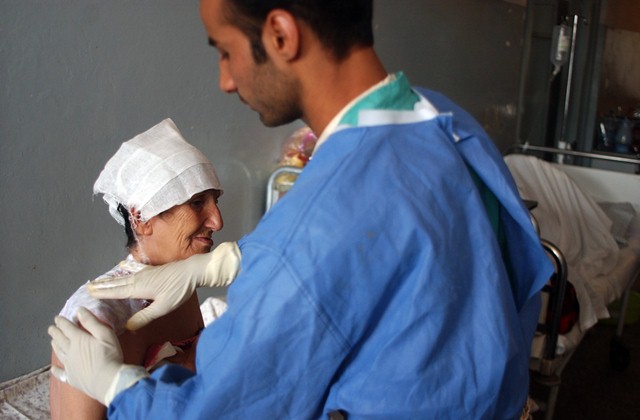 In a report on the implementation of an Afghan law on violence against women issued in December last year, the United Nations Assistance Mission in Afghanistan (UNAMA) said that cases of forced self-immolation were often treated as regular 'suicide' incidents, due to the lack of proper forensics, crime scene and circumstantial evidence investigations.
Of 1,538 reported incidents of violence against women from October 2011 to September 2012, UNAMA's report found that more than half of the reported incidents took place in two provinces, Kabul (670 incidents) and Herat (333 incidents), consistent with previous findings.
The announcement of the fall in Herat province's cases of self-immolation comes in the wake of World Suicide Prevention Day on 10 September.
Organized by the International Association for Suicide Prevention (IASP) and supported by the UN World Health Organization (WHO), the "purpose of this day is to raise awareness around the globe that suicide can be prevented," WHO notes on its website.
Mr. Shirzai said since most of the patients in self-immolation cases suffer burns in 60 per cent of their bodies, they are especially difficult to treat and "this is why 50 per cent of them lose their lives."
According to government officials in Herat, most of the self-immolation cases take place in the province's remote areas, particularly in far-flung districts where education and literacy rates are low.