Afghan civil society establishes network to support election
KABUL - Around 60 domestic organizations came together today to establish a network whose aim is to allow Afghan civil society groups to play a robust role in making next year's elections fair and transparent. Afghanistan's presidential election is scheduled to occur on 5 April 2014.
The first work of the network—which calls itself the Afghanistan Civil Society Elections Network (ACSEN)—is to work with official election agencies to devise a strategy to help prevent fraud in the upcoming elections.
"We will also submit our recommendations regarding the elections process to the Independent Election Commission in accordance with the recently approved electoral law," Roshan Seran, a member of the network, told a press conference in Kabul today.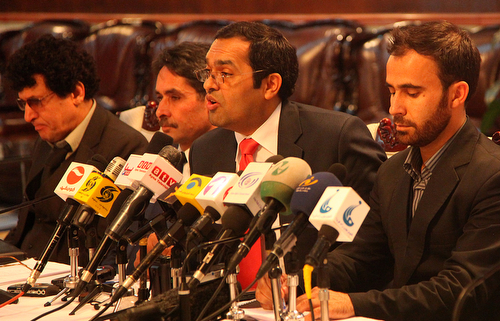 In the last few days, preparations for the election have gathered momentum. Afghanistan's President, Hamid Karzai, recently endorsed Afghanistan's Electoral Law and as well as another law that regulates the structure and responsibilities of Afghanistan's Independent Election Commission (IEC).
In a recent statement, United Nations Secretary General Ban Ki-moon welcomed the endorsement and enactment of these laws, calling them a "key step toward establishing a robust electoral architecture for Afghanistan's Presidential and Provincial Council elections due to take place on 5 April 2014."
Mr. Ban said that he looks forward to the speedy implementation of the law to facilitate transparent, credible and inclusive elections.
"Afghan-led and Afghan-managed 2014 Presidential and Provincial Council elections are central to Afghanistan's stable and sustainable political transition."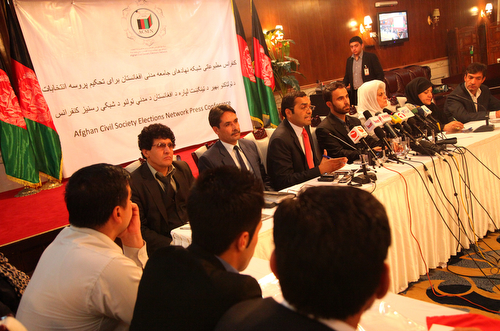 The Secretary-General also called on all concerned parties to engage in constructive efforts to ensure that the elections are held according to the Afghan Constitution and the Independent Election Commission's timeline.
At today's event, the spokesperson of the IEC, Noor Mohammad Noor, welcomed the establishment of ACSEN and said he hoped that civil society organizations could help the IEC by raising awareness with the public about the importance of voting.
Referring to the ongoing voter registration process, he said that under the first phase, which began on 26 May 2013, only about 120,000 people received new voter registration cards. Among these only 30,000 were women.
"We need the cooperation of Afghan civil society to persuade women to take part in this national process," said Mr. Noor.
He also said that the second phase of the voter registration drive would occur in all 34 provinces, beginning 27 July 2013. Already, voter registration materials have been sent to 300 districts. At the moment there are only 41 voter registration centers. Beginning next week, that number will increase to 441 centers.