UN expands presence in Afghanistan with new office in the north
9 May 2009 - The United Nations opened its 20th office in the northern Sar-i-Pul province of Afghanistan on Saturday, continuing the world body's drive to promote development across the strife-torn nation.
"I consider this opening to be especially important, because it reflects one of our most important objectives to draw more attention and resources to the poorest provinces," Secretary-General Ban Ki-moon's Special Representative Kai Eide said at a ceremony marking the event.
Mr. Eide, who heads the UN Assistance Mission in Afghanistan (UNAMA), said that the poor and the stable provinces in the Central and Northern parts of the country cannot continue to be neglected.
Pledging to push for an equitable and astute distribution of assistance to the people of Sar-i-Pul and across Afghanistan, he warned that if we allow "this feeling of unfairness to continue, then the result could be instability where there is today stability."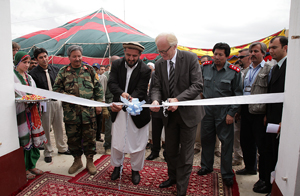 The new office in Sar-i-Pul aims to introduce agricultural reform as to avoid the constant humanitarian crises of the past, as well as devote attention to human rights, particularly the rights of women.
"Afghanistan needs the resources and talents that its women can bring to the development of the country," he said. "It is a not just a question of human rights of individuals, but also the future of the entire country."
Mr. Eide also used the occasion to urge the people of Afghanistan to ensure that the upcoming presidential and provincial elections are free of corruption and compliant with the country's Constitution and laws.
Earlier this week, the Special Representative opened a UNAMA office in Tirin Kot, the capital of the southern province of Uruzgan, stating that the "opening of our office should serve as a signal encouraging others to come and work in this province."
UNAMA's other offices are located in Balkh, Kunduz, Herat, Kandahar, Nangarhar, Bamyan, Kabul, Paktya, Ghor, Kunar, Khost, Nimroz, Badghis, Faryab, Uruzgan, Badakhshan, Daikundi and Zabul provinces. In addition, the mission has liaison offices in the Iranian capital of Tehran and the Pakistani capital of Islamabad.