Panjsheri rocket launchers and heavy guns handed over to the Government
14 April 2009 - Rukha, one of the seven districts of the famous province of Panjsher, just north of Kabul, was today declared a peace district. Rukha is the second district in the province that has disbanded illegally armed groups present there following Unaba a few months ago.
A peace district or DIAG (Disbandment of Illegal Armed Groups) compliant is the term used for districts and towns where all illegal armed groups have been disbanded.
Today 63 different heavy and light weapons belonging to three illegal armed groups in Rukha were handed over to the DIAG programme, supported by the United Nations Afghanistan's New Beginnings Programme.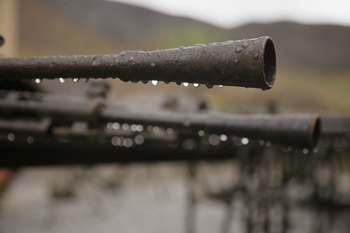 General Abdul Hafeez, a representative of the Ministry of Defence, in charge of the DIAG programme in the central region, said that a total of 8,000 weapons, including 160 weapons from Panjsher have been collected from the central region.
"The era of Jihad is over and we have handed over our weapons to the central Government," said Mohammad Rafi, a commander who handed his weapons in today.
Panjsher, which translates as "Five Lions" was a district of Parwan province before it was promoted to a province on 13 April 2004.
"Although Panjsher enjoys complete peace and security, very little reconstruction has taken place here and little assistance has been given to the province," complained Wali Mohammad a resident of Rukha.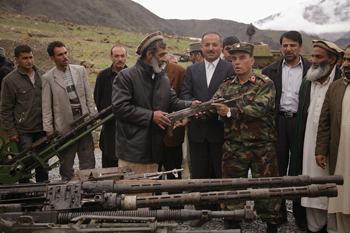 Abdul Raziq Akrami, Rukha's district governor said: "We do not want any reward for handing over weapons. But we request the international community, the (central) Government, and NGOs to help us with implementation of development projects."
The Afghanistan's New Beginnings Programme (ANBP) was established in April 2003 to assist the Afghan Government in the Disarmament, Demobilisation and Reintegration (DDR) of the Afghan Military Forces. ANBP's mandate has evolved and today encompasses the Anti-Personnel Mines and Ammunition Stockpile Destruction Project as well as DIAG.                            
So far ANBP has announced 64 districts as peace districts out of a target number of 105 districts and disbanded a total of 532 illegal armed groups across Afghanistan. In addition, 42,069 heavy and light weapons, as well as large quantities of ammunition have been handed over.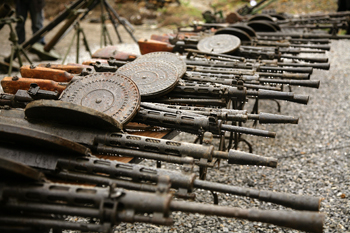 ANBP also aims at providing development projects to those districts which become compliant and free of illegal armed groups through the Ministry of Rural Rehabilitation and Development. Five such projects have been completed, 22 projects are ongoing and 39 are currently under planning or at the procurement stage.
By Homayon Khoram, UNAMA